What is exterior maintenance?
The exterior of any building is the first impression. Guests, workers, investors, clients – they all see the exterior long before entering the building. Maintaining your building's exterior will not only boost curb appeal, but it can also extend the life of construction materials. Read on to learn about exterior building maintenance.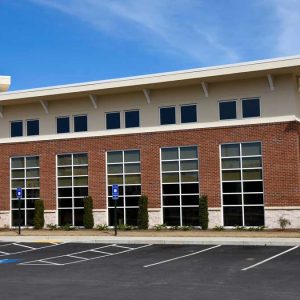 Cleaning-related exterior maintenance
Cleaning is at the foundation of most maintenance programs because it keeps the building looking its best. This may include washing the windows, power washing hard surfaces, pressure washing the siding, removing graffiti, landscaping maintenance, and anything else related to the outward appearance of the building.
The frequency of exterior cleaning varies by task and environment. You may wash welcome mats once a week, but window washing may get scheduled once a month. Most cleaning tasks occur weekly, biweekly, monthly, quarterly, semi-annually, or annually.
Preservative and preventative exterior building maintenance
Preventative exterior maintenance protects the structural integrity of the building. This includes services like:
Tuckpointing or repointing mortar between bricks
Above- and below-grade waterproofing (liquid and sheet applications)
Cold and expansion joint sealing
Exterior coatings, such as EIFS and elastomeric coatings
Window sealing and gasket replacement
Roof repair and maintenance
Sidewalk repair and releveling
Concrete crack repair
Foundation piering and stabilization to prevent settling
Drainage system installation
And other services designed to protect building materials
It's best to be proactive with preventative building maintenance to keep repair costs down. Instead of waiting for a problem to arise, get ahead of it. These steps will save you money in the long run, and they will keep your building in pristine shape.
Cosmetic building maintenance
Cosmetic exterior maintenance may not be necessary from a structural perspective, but it can change the way people view your building. Services like commercial painting, stucco restoration, outdoor lighting, and cosmetic coatings can make an older building look renewed. Some services, such as parking lot painting and vehicle traffic coatings, double as both cosmetic upgrades and safety improvements.
Every exterior feature on a building requires maintenance in some way. You simply need to find the proper maintenance steps for your building's unique needs. JK Industries can create a custom maintenance plan that's tailored to your property and budget. Contact us online or by phone to learn more.