What is masonry restoration and cleaning?
Want to extend the life of your brickwork and help your building look like new? Many property owners assume that masonry is maintenance-free, but that's not always the case. Routine cleaning and restoration can preserve masonry and protect its structural integrity.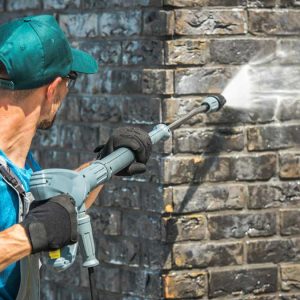 Masonry cleaning vs. masonry restoration
Masonry cleaning involves removing dirt, grime, and surface stains from brick and mortar. Masonry restoration is a more extensive process designed to revive a brick structure to its former glory. Brick cleaning may include a simple power wash, but brick restoration may require replacing select bricks and mortar.
Types of masonry cleaning
Traditionally, masonry cleaning consists of a washing application, such as pressure washing or chemical washing. Older bricks are more brittle and may not be able to withstand high-pressure washing. There are soft wash techniques that eliminate algae, efflorescence, caked-on dirt, and other debris. JK Industries offers safe cleaning techniques for buildings of all ages.
Types of masonry restoration
Masonry restoration is a broad term that covers a wide range of services, including:
Tuckpointing, repointing, and mortar repair
Brick crack repair and concrete crack repair
Color-matched brick replacement and seamless mortar transitions
Masonry reconstruction with existing materials
Foundation repair to prevent future brick damage
Structural brick repairs
Brick paver releveling and resanding
Brick restoration is common for historic buildings, but it is not limited to older structures. If the bricks on your building were not properly installed or the building sustained unforeseen damage, you may need masonry restoration.
How to restore and maintain old brickwork
Each building has unique requirements when it comes to brick restoration, cleaning, and maintenance. Talk to a brick repair company like JK Industries if you've noticed brick damage or want to prevent it proactively. The damage will only get works with time.
At a minimum, your bricks should be cleaned once or twice a year. Some buildings require additional cleanings based on the landscaping and climate in the area. Contact JK Industries to learn more about masonry maintenance and brick restoration.