How to make a safe parking garage
Pulling into a parking garage can feel a bit intimidating. These large concrete structures include layers of heavy vehicles, which may make you wonder, "How safe can this be?" Parking garage safety involves strategic construction, topped with effective signage and frequent maintenance.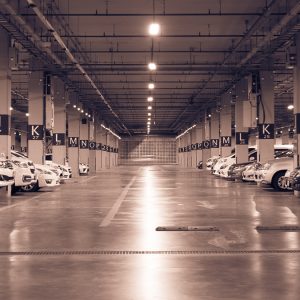 Parking garage design and construction
Parking garages are made with precast concrete or cast-in-place concrete. These materials are incredibly strong and designed to withstand the heavy abuse of constant traffic.
During the design stage, project planners must take shifting into account, which may occur after construction. Seismic activity, ground settling, and heavy wind pressure may shift the parking garage with time. A well-planned parking garage will be able to accommodate these shifts without sacrificing safety.
Parking garage design includes a safe flow of traffic to minimize accidents. Since vehicles will enter and leave the structure at any time, it is important to have proper lanes for incoming and outgoing movement.
Parking garage lighting and signage
Lighting plays a vital role in parking garage safety because the solid concrete structure may be dark throughout the day. The parking spots themselves should be illuminated, as well as doorways to stairs and elevators.
In addition to lighting throughout, there must be signs in place to direct traffic and prevent accidents. The signage should be on the driving surface, as well as overhead structures. This allows drivers to see directions no matter where their eyes look in the garage.
Parking garage cleaning and maintenance
Because parking garages are large and heavy, they should be frequently inspected for signs of damage. Garage inspectors look for water infiltration, deteriorating concrete, cracking, sinking, and other signs of issues. They then recommend actions to protect the safety and integrity of the building.
Parking garage maintenance also includes specialty coatings to protect the concrete. Vehicles bring salt and chemicals into the structure that could wear away at the concrete. With proper coating, the concrete can stand up to these elements and remain structurally sound. Coatings are also applied to walkways to prevent slip and fall hazards for pedestrians.
JK Industries specializes in parking garage maintenance and concrete coatings. Reach out today to schedule an inspection or learn more about our commercial concrete services.