How long does tuckpointing take?
Tuckpointing is used to repair joints in stones and brick, and it is a necessary part of masonry preservation. Not only does it protect the structural integrity of the brick, but it also refreshes the appearance of the building. Exposure to weather can make moisture break down behind it, which causes deterioration. If you're wondering how long tuckpointing takes, the answer depends on the size of the job and the condition of your existing mortar. Read on to learn about the factors that influence tuckpointing timeframes.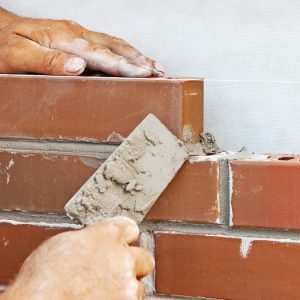 How tuckpointing works
Tuckpointing is the process of removing the exterior layer of mortar and replacing it with new, color-matched mortar. The mortar around your bricks will deteriorate faster than the bricks themselves. By replacing old mortar, we can extend the life of the masonry and prevent further deterioration.
How long does tuckpointing take?
The amount of time it takes to tuckpoint will depend on several factors, including:
The scale of the project
The weather conditions (mortar dries slower in high humidity)
The condition of the mortar
The amount of mortar that needs to be replaced
How accessible the bricks are
Tuckpointing a chimney is much faster than tuckpointing an entire building. Simultaneously, it's easier to tuckpoint lower-level structures than it is in difficult-to-reach areas. We will take all of this into consideration during your on-site inspection to estimate how long tuckpointing will take.
Something else to keep in mind is the wait time between the inspection and the start of the process. Oklahoma weather is often unpredictable, so it may rain for a week before we can complete the tuckpointing. We also do our best to work around your busy schedule.
How to save time with tuckpointing
Proactive tuckpointing is even more effective than reactive tuckpointing because it stays ahead of the deterioration. Masonry that's over 20 to 30 years old is probably in need of tuckpointing. We recommend scheduling small tuckpointing projects as part of your building maintenance, rather than getting the entire building tuckpointed at once. This saves time and creates fewer scheduling conflicts.
To schedule a tuckpointing consultation, contact JK Industries, Inc. We'd love to help!