Keeping a building's exterior clean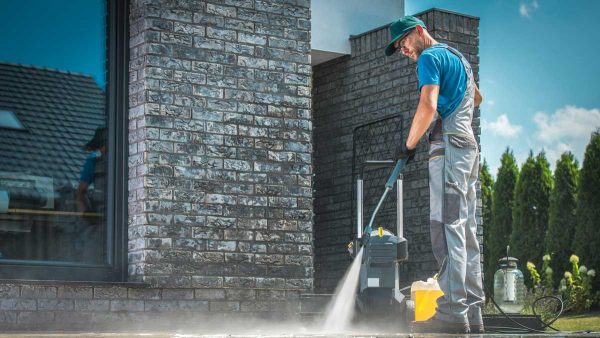 Whatever the surface of your building, keeping it clean is part of the first impression you give to your customers. A dirty building can put customers off, giving them assumptions about what's contained within. But a clean exterior invites people.
There's a second, important function to keeping your building's exterior clean, though: it helps you spot trouble spots for building maintenance much faster. It's a lot easier to see cracks and problems in mortar when it's free of mildew and moss, and it's a whole lot easier to see the
issues with your building when there's not a layer of nasty in the way.
But do you know how to keep your building clean? From top to bottom? Safely, with the right chemicals and cleaning agents for your surfaces? We do. Here's what you need to know.
Inspection checklist
What's the outside of the building made of? Brick, limestone and stucco all have different maintenance regimes. You can't clean them all the same way.
Can you see stains and deterioration? If you can, that's the place to start.
How good is the seal around the windows and doors? These are a prime place for the elements to reach in. And the people in the building might get a little wet if you're pressure washing and a seal has a hole.
Do you need to remove awnings or other features? Check behind things. Be thorough.
The nitty gritty
Once you've figured out the answers to these questions, you can get down to cleaning.
Dry ice blasting is a common abrasive cleaner that will leave no residue and is easier on surfaces than many other types of sandblasting. High pressure water blasting, or pressure washing, is high-pressure cleaning that can take dirt and grime off outer surfaces. You can also do low-pressure chemical cleaning, which combines a light water spray with chemicals formulated for your surface and stain. And if you're having trouble with metallic stains, ferrous oxide cleaning can remove rust and other metals from concrete and masonry.
Whatever cleaning method you use, you should consult with a professional to make sure you're not going to do harm to your building. Different cleaning methods can hurt different surfaces. What you use for limestone may not work for brick.
You always want to use the least abrasive method possible for the surface. Make sure you plan and prepare in detail before a cleaning, consulting with people who know the ins and outs of building maintenance. If you're looking for a consultant, contact JKI. We have years of experience working with many different surfaces and we know exactly what cleaning methods will work for your building. Ask us for help with application if you have issues. Let us help you stay ahead of your maintenance.