Anti-graffiti coatings and their benefits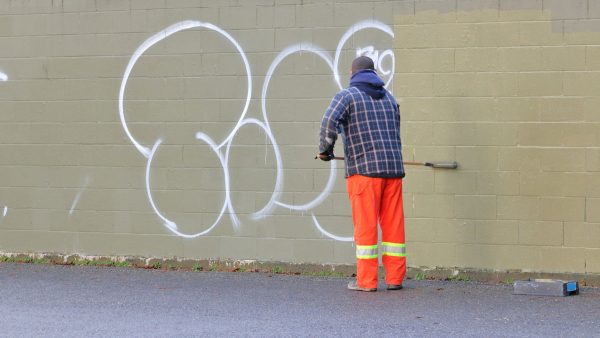 Is graffiti hurting your neighborhood?
Paint company Valspar put together some research on graffiti and concluded that $12 billion is spent every year on cleanup. Property values in graffiti-covered areas go down by 25 to 50 percent. In terms of money, graffiti is one of the single biggest factors that can drive down property values and business revenues alike. And it can happen surprisingly fast.
It's a real problem for the community. It's a problem for perception, too. People tend to avoid areas where graffiti is common, and new business is less attracted to the area. It will scare customers away. It can even indicate gang activity.
Once graffiti is up, it's hard to remove. It hurts your neighborhood—but there are ways to combat it. And one of the most effective is anti-graffiti coatings.
Stopping graffiti before it starts
How does an anti-graffiti coating work?
The first thing you need to know is that anti-graffiti coatings come in two variants: sacrificial and permanent.
Sacrificial coatings create a barrier on a surface. When paint is applied, that barrier bonds to the paint molecules, and at that point the graffiti can easily be washed off with a pressure washer. These coatings need to be reapplied after every washing, though, which can be a problem. You're most likely to find this sort of coating on areas that can be easily accessed from the ground.
Permanent coatings are more expensive, but offer a longer-term solution. They're only applied once. Instead of needing a pressure washer, all the structure owner needs to do is wipe the paint away—it won't stick to the surface. With a permanent coating, it only needs to be reapplied occasionally. No need for refreshes after each round of graffiti. For hard-to-access structures, permanent coatings are a great option—especially ones that are hard to get a power washer to.
Making your neighborhood better
No matter where your neighborhood is or what sort of structures you're responsible for, graffiti-resistant coatings will help you build property values, stop tagging, and create a more inviting environment for residents and visitors alike. Homeowners' associations, municipalities, cities and businesses will all sometimes provide support for anti-graffiti coatings. It's worth checking.
Whether you go for sacrificial or permanent coatings, you'll be able to cut down dramatically on incidences of graffiti and keep your buildings safe. If you've had problems with graffiti in the past, you don't have to any more. Talk to JK Industries today to find out how we can help you stop graffiti before it starts.