Choosing the right exterior cleaning method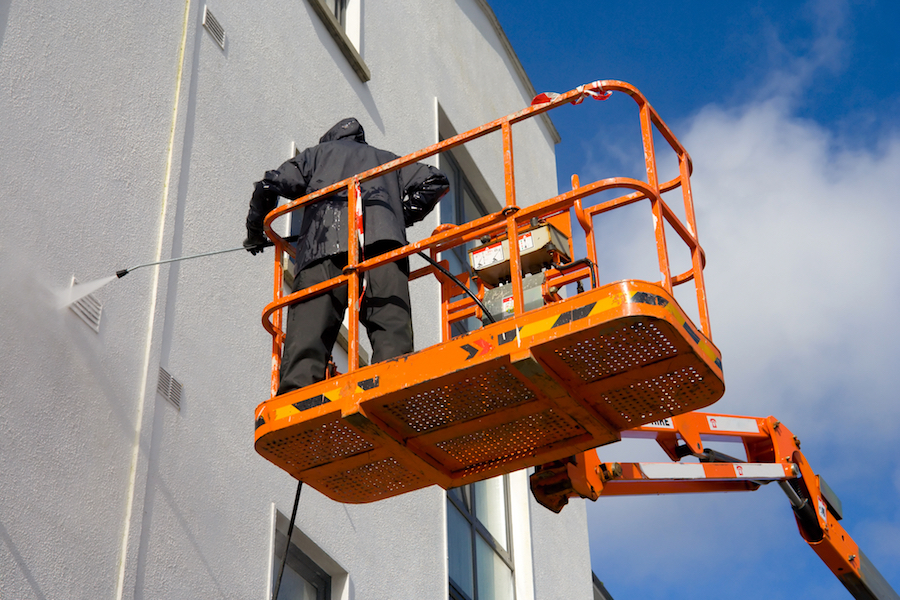 Commercial buildings can take a beating over time, and the exterior facade can start to show dirt, staining, or other markings. Whether light or dark, brick or concrete, limestone or stucco, the exterior of your building will need to be cleaned periodically to keep it looking its best and to help identify any needed repairs.
When it's time to clean the exterior, it may be tempting to reach for a power washer, but that's not always the best option. In fact, power washing can damage some surfaces and create much bigger problems than the dirt you wash away.
If your maintenance crew doesn't have experience with exterior cleaning, it's a good idea to call a professional who can consult with you on the type of exterior surface, the amount of dirt and staining, and the best cleaning method to handle it without damaging the surface. In general, you should always start with the gentlest cleaning option available and adjust from there if needed.
Consulting a professional is especially important for historic buildings and specialized exterior surfaces. If the building exterior includes multiple different materials, it may be necessary to use different cleaning methods on targeted areas.
Some common types of cleaning we use once we have analyzed the building exterior and the types of stain include the following:
High pressure water blasting, which uses water to remove dirt and grime from the building.
Low pressure chemical cleaning, which uses a lower pressure of water combined with specific chemicals formulated for the type of stain and surface.
Ferrous stain removal, which is an organic compound specially formulated to remove metallic oxides from concrete and masonry surfaces.
Dry ice blasting, which uses dry ice and high pressure to clean the surface. It is less abrasive than some other methods and leaves no residue.
If you're contacting a professional for assistance with exterior cleaning, be sure to ask these questions:
What experience do you have with cleaning buildings with exteriors like ours?
How do you determine the specific materials on the exterior of the building if the owner doesn't know what it is?
How do you go about analyzing the types of stains on the building to ensure you're using the right cleaning method and product?
How do you protect other exterior elements (like decorative metal accents or windows) from damage during the cleaning process?
Are you able to make repairs to masonry or other exterior surfaces before cleaning?
Asking the right questions up front can save you time and prevent potentially significant damage to your building exterior.