The types of surface coatings for commercial buildings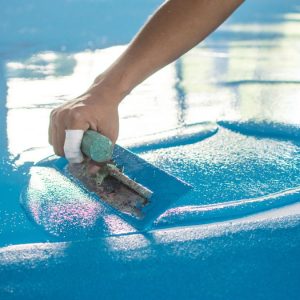 Commercial buildings represent a significant investment for business owners. That's why it is essential to understand how to utilize regular maintenance and inspections to protect your retail or warehouse space and avoid costly repairs or restoration.
Surface coatings are growing in popularity among commercial building owners who want to protect their investments and enhance the look of their facilities. But which type of coating is right for your commercial building? Let's take a look at the different types of surface coatings that are available and the benefits they have to offer.
Elastomeric Coating
An elastomeric coating is a fluid-applied roofing membrane applied to roofs that contract and expand with the material. This means that elastomeric coatings can accommodate changes in the structure of your building due to expansion or contraction without cracking or peeling off. Elastomeric coatings provide superior protection from wind-driven rain, hail damage, UV rays, dirt, and other environmental conditions. This keeps your roof from degrading faster than necessary.
Epoxy Coating
Epoxy coating is a two-part paint system that consists of a resin and hardener mixed together to create a durable finish on concrete floors. Epoxy coatings add strength and durability to your concrete flooring while providing excellent chemical resistance against spills and corrosive materials. Epoxy coatings come in various colors and finishes, so you can customize your flooring to fit any décor.
Urethane Coating
Urethane coating is a paint system designed specifically for metal surfaces such as steel beams or aluminum siding panels. Urethane coatings provide superior protection against corrosion caused by moisture, saltwater exposure, and UV rays from the sun. Urethane coatings are also highly resistant to abrasion from heavy foot traffic or accidental impacts from machinery or tools. Urethane coatings come in virtually any color you can imagine, so you can easily customize your metal surface.
No matter what kind of commercial building you own, there is an appropriate surface coating that will lengthen the life of and strengthen your structure. If you need help protecting your commercial space, contact JKI today for a free quote.