Concrete finishing options
Finishing is the last step in the concrete pouring process. Finishing techniques determine the texture and color of the concrete slab, which can transform a plain concrete slab into a beautiful faux-stone structure. Below is an overview of common concrete finishing options.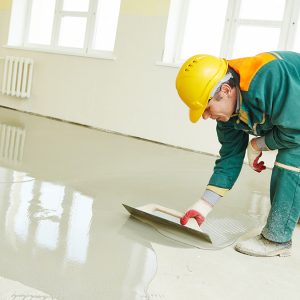 Concrete colors
There are a few ways to add color to concrete. First, a powder can be mixed with the concrete so that the poured concrete comes out in the desired color. Second, a colored powder could be added to the top of the concrete after it is poured. This is common in stamped concrete because it allows a multi-tone appearance that mimics stone.
Another way to add color to concrete is through stains or dyes. These are applied after the concrete cures. Concrete can be stained shortly after it is installed or years down the line.
Colored concrete is usually finished with a sealer to protect against precipitation and UV rays.
Concrete stamping
Stamped concrete is most often designed to look like brick or stone pavers, but it can be stamped into a geometric pattern or any other design. A mold is pressed into the concrete before it fully sets to create defined lines along the top. These lines create the appearance of grout or sand, especially with multiple colors at play.
Concrete brooming
Brooming is a concrete finishing technique that creates a subtle texture on top of the finish. The bristles from the broom put small grooves into the surface, which provide traction once the concrete dries. Brooming is common on sidewalks and walkways to prevent trip-and-fall hazards.
Concrete sanding
Brooming adds texture to concrete, but sanding takes it away. This is common on concrete countertops where a smooth finish is desired. Sanding can level uneven concrete and remove any aggregate poking through the surface.
Concrete sealing
Concrete sealers are designed to protect concrete from water infiltration and corrosion. The sealers are applied shortly after the concrete cures and may require repeat applications with time. Concrete sealing is not ideal for all structures, but it is common in both commercial and residential applications.
To learn more about concrete finishing or other concrete services we offer, contact JK Industries today.